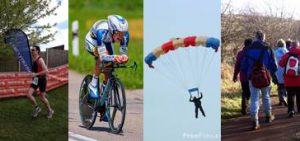 Fundraising for Pelican Cancer Foundation can be easy, whether you want to walk, run, cycle or jump there is something for everyone!
Be inspired by all our fantastic fundraisers.
Together we can make a difference!

A simple way to raise money doing something you enjoy – having your friends round for dinner!
Just visit Dinner for Good and you'll see it couldn't be easier to Host a Dinner.
You start by creating a personalised "Dinner Page" on the Dinner4Good website (this takes about 5 minutes) and then email invitations will be automatically sent from the site. Your guests then accept and donate online, which means you can see who is coming and how much is being raised – in a click. It reduces the awkwardness of asking for money and no there's no hassle with collecting cash. Dinner4Good takes care of everything, including the Gift Aid application – so all you have to do is eat, drink and enjoy yourselves!
Tell your friends over dinner about the cause they've donated to and they might also want to hold a Dinner4Good of their own – so the good goes on and on!
Together we can make a difference.
Support Pelican Cancer Foundation when you shop online
Save and Support
pelican.trainsplit.com
We're excited to partner with Raileasy on their Save and Support scheme. Get savings on train tickets and, for every ticket booked via pelican.trainsplit.com, Raileasy will donate a percentage to Pelican (usually this will be between 30-50p, but can sometimes be as much as £7-£10).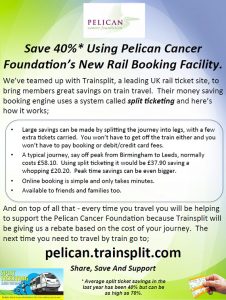 eBAY
If you are a regular user of eBay why not support us by selecting Pelican Cancer Foundation as your favourite charity http://www.ebay.co.uk/egw/ebay-for-charity/charity-profile/?NP_ID=26450. Every penny counts.
GIVINGABIT.COM:
Pelican has joined givingabit.com. Every time you shop online via www.givingabit.com you create a free donation for the charity. With over 1,200 shops, including Amazon, Sainsbury's, Groupon & John Lewis, you can buy everything from music to car insurance!
Find out more at www.givingabit.com. Together we can make a difference.