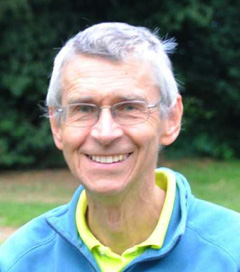 I was first diagnosed with prostate cancer in October 2013 and it has been an emotional roller-coaster ride since. 
My GP decided to start 6-monthly PSA test for me in my mid-50's, I'm 61 now. My PSA was 2.61 in 2009, and steadily increased to 6.2 by 2013, at which point my GP suggested I see a Urologist, who was Mark Emberton.
My first rectal (finger) examination and ultrasound check did not reveal any evidence of prostate cancer. However, Magnetic Resonance Imaging (MRI) then Trans Perineal Mapping (TPM) (not TRUS) biopsy showed that I had an anterior index lesion (tumour) in my prostate right side, with a "score" of 12mm of Gleason 3+4 pattern 4 accounting for 30% of tumour load. ("Anterior" means the side of my prostate furthest from my posterior, or back passage.)
This caused mixed reactions from me: even though I always believe that whatever happens to me is God's will, I still tended to have the emotions of anger and distress.
To summarise what the above "scientific" stuff means: I have a low-risk index (main) tumour, but, according to my estimation, it could certainly cause problems and noticeable symptoms if left for more than 5 years. So my decision: have it zapped now!
Interestingly, Mark Emberton said it would have been even better had I gone to him even earlier in 2012, when my PSA was around 4.
After several consultations with the excellent team at UCLH, and much prayer, I've decided to have Cryotherapy to destroy my index (main) lesion (tumour).
Unfortunately, I did not qualify for the Nano Knife trial, since I also have 5mm of Gleason 3 on my right lateral aspect (on my prostate posterior, back passage, side). This latter I've decided to leave for surveillance – to me, it appears to be much lower risk.
Perhaps one of the most traumatic times so far in all this, was when I went for my initial appointment for cryotherapy. Being last in that days theatre list, and having been I.D. tagged, had consultation with anaesthetic and surgical team members (as is usual), and waited an fasted for several hours in surgical reception, I was told, gently, that because a previous (and probably less fortunate) patient had complications and his surgery was taking longer than was expected, my cryo surgery was cancelled for that day.
My initial distress gave way to understanding, as I realised, firstly, that one of the theatre team (Manit's consultant) had made a special effort to come from theatre to tell me himself, and that every patient's BEST treatment in theatre MUST be the first priority. Reassuring to realise that they won't kick me off the table regardless, when the theoretical 2 hours' procedure time is up!
Since September 2013, I must have studied prostate cancer with more intensity than all my student years put together! It's made me start asking the sorts of questions that many a urologist probably asks.
So, for anyone else who's been diagnosed with early stage prostate cancer: don't automatically opt for total removal or destruction of your prostate! The focal or index therapies appear to offer a good cure, with only minimal chances of side-effects, except for one: the only down-side to my treatment (and all prostate treatments) appears to be the permanent side-effect of a "dry climax". The probability of this is 50%. (All these figures are from the UCLH patient information sheets and discussions with Emberton and his team.) However, as with ALL medical treatments, the desirable benefits need to be considered in balance with the undesirable side-effects.
And now for something completely different: Suggestions please: since I have a family history of bowel cancer, does anyone know of a way of monitoring for early stages of it, other than colonoscopy (which I've had and will have again)? An equivalent blood test just like PSA for prostate would be ideal! (Ed: you can have a faecal occult blood test to see if there is any blood in your poo or a blood test to check for anaemia (a low number of red blood cells), which is common in people with bowel cancer)