At Hampshire Hospitals NHS Foundation Trust:

Mr Richard Hindley
is a Consultant Urological Surgeon at Hampshire Hospitals NHS Foundation Trust who has introduced HIFU (high intensity focused ultrasound) for the treatment of prostate cancer for men who are unsuitable for surgery. HIFU is being used both as a primary treatment and as a salvage therapy for patients who have local recurrence following EBRT.
Mr Hindley has also introduced the high powered KTP (green-light) laser (the first in the region) which vaporises prostate tissue and is set to replace traditional prostate surgery for benign (non-cancerous) prostate enlargement.
Click here to see more.

Phillipa Aslet
is a Specialist Prostate Cancer Nurse with extensive experience in the management of patients following radical treatments for prostate cancer and runs her own dedicated follow-up clinics. She works closely with Richard Hindley and is involved with prostate cancer screening and diagnosis.

Research at UCL (University College London): Professor Mark Emberton
Mark Emberton is a Professor in Interventional Oncology, Division of Surgery and Interventional Science at University College London and MDT (Multi-Disciplinary Team) Chair for Urological Cancer. He is also Clinical Director, Clinical Effectiveness Unit at The Royal College of Surgeons of England. His primary interests lie in trying to improve diagnostic and therapeutic pathways for men with prostate cancer, namely through the use of novel imaging techniques and minimally-invasive treatments. His research interests are chiefly focused on prostatic diseases and non-invasive methods of diagnosis and minimally invasive methods of treatment, including focal therapy for prostate cancer. He is a regular presenter at international scientific meetings.
Areas of research interest: Focal therapy, Non-invasive diagnosis, MRI scan, Active surveillance, Salvage therapy, High-Intensity Focused Ultrasound. Photo-dynamic therapy, Vascular targetted therapy, Phototherapy, Cryosurgery.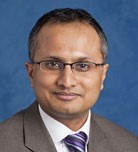 Professor Hashim Uddin Ahmed
is Professor and Chair, Division of Surgery, Department of Surgery and Cancer at Imperial College London and Honorary Consultant Urological Surgeon, Imperial Urology, Imperial College Healthcare NHS Trust. Professor Ahmed's research focus is particularly around prostate diagnosis using novel imaging and tissue biomarkers, prostate treatments that reduce the harms of traditional surgery and radiotherapy and clinical trials and health technology evaluation – detection and characterization of prostate cancer using precision imaging and biopsy.
Professor Ahmed is the Chief Investigator for the following research studies: PRISM, NCRN CADMUS, NCRN FORECAST, NCRN INDEX and Multi-centre PRX302 for treating localised prostate cancer.