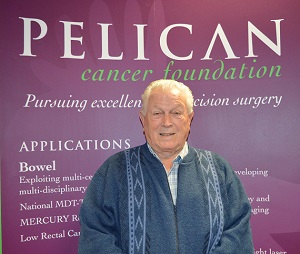 Raymond, 81, has been one of the first patients to take part in the FORECAST trial at Basingstoke Hospital, which is funded by the Pelican Cancer Foundation.
"I was first diagnosed with prostate cancer about eight years ago, which was a great shock. I went to my GP because I was going to the toilet more often, and my GP referred me to the hospital.
I had to have radiation treatment; it was pretty gruelling every day for 37 days! Once my treatment was complete, my prostate count went down considerably. I had to go back for regular check-ups, and then, a few years ago my prostate count began to rise again; my prostate cancer had returned.
I met with my consultant at Basingstoke Hospital, Mr Richard Hindley, to discuss what we could do next. He told me about a new research trial that they were doing with University College London Hospital. I was keen to take part as it could potentially improve my treatment but also help other people who are diagnosed in the future.
I had to go up to London to have a whole-body MRI scan as this is one of only two hospitals in the country that have the equipment. My whole-body MRI took about an hour and half during which I wasn't allowed to move and had to keep my eyes closed. Following my scan and a biopsy I have had focal therapy. I haven't finished my treatment yet, but I have now had two negative prostate count results and it is looking quite promising."

FORECAST is a research trial that Pelican is helping to fund. The aim of FORECAST is to establish if using a whole-body MRI scan can improve the targeting of localised therapy treatments in men whose prostate cancer has not responded to radiotherapy. The new imaging test will help to better identify men who can benefit from focal therapy, a technique developed through research funded by Pelican, which uses a high intensity focused ultrasound to destroy the cancer. Pelican is funding the whole-body MRI scans for 30 patients being treated at Basingstoke Hospital. If successful, the trial could impact on the treatment of over 2,250 patients annually.
16/04/2016