Urology teams in Manchester are at the forefront of a national development programme to improve the diagnosis and treatment of prostate cancer and are being helped by Pelican Cancer Foundation.
The first "Transformation in the Prostate Cancer Pathway: Teamwork for Patients" (TIPTOP) workshop was held in Manchester in February 2019.
After supporting prostate cancer research for the last 16 years, the Pelican team led by Consultant Urological Surgeon Mr Satish Maddineni presented the latest findings and recommendations around the UK to help patients achieve a timely and accurate diagnosis and further treatment.

The day-long presentations for regional prostate cancer teams (MDTs) – including urologists, radiologists, clinical nurse specialists, pathologists, oncologists,radiographers and cancer managers  – were designed to raise awareness of how the diagnosis of prostate cancer is rapidly changing. For example, the introduction of MRI scans before taking a biopsy with the subsequent reduction in the number of patients requiring biopsies and therefore improving the accuracy of the biopsies themselves. The programme also outlined how patients should get their diagnosis much faster – ideally within 14 days; and the increase in treatment options.
The inaugural TIPTOP workshop, held at The LifeCentre in Sale, considered the best way forward, for both logistics and clinical developments. In addition to the presentations from medical experts and discussions, the MDT members from 12 hospitals in the Manchester area had the opportunity to network, meet colleagues and representatives from the Greater Manchester Cancer Alliance including Professor David Shackley, Medical Director for GM Cancer.
One of the delegates from The Christie Hospital commented afterwards: "Everybody went away enthused and I look forward to progress being made in the North West."
Another prostate cancer specialist said: "It was extremely interesting. As a result, I will work with urology experts and radiologists to improve access to MRI scanning and improve any time constraints."
Prostate cancer survival is improving and has tripled in the last 40 years, however it remains the second most common cause of male cancer death with in the UK, with more than 47,200 new cases in 2015.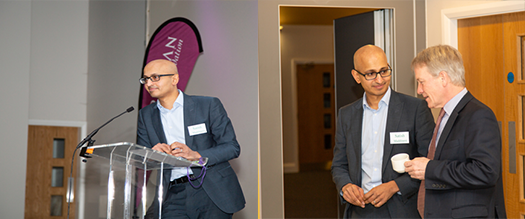 Mr Maddineni, consultant urologist at Salford Royal, said: "Pelican is very pleased and proud to bring the TIPTOP programme to prostate cancer teams around the country. It aims to raise awareness and give an improved understanding of the optimal diagnostic pathway for prostate cancer which they can then incorporate into their own practices."
"The recent developments in imaging and prostate cancer diagnostic techniques, coupled with the arrival of new technologies that can destroy areas of cancer in the prostate, have enabled many men to enjoy a good quality of life after treatment."
Pelican's Chief Executive Sarah Crane said: "Pelican Cancer Foundation's groundbreaking new programme will work with cancer specialists to adopt changes in the diagnosis of prostate cancer, with the aim of reducing the number of men who are diagnosed every year, and improving treatment for those who are.
"Our free workshops in Britain and Ireland are designed to help these specialist cancer teams treat patients for the best possible outcome. The programme will not only improve clinical confidence in prostate cancer care, it could also make long-term savings for the NHS."