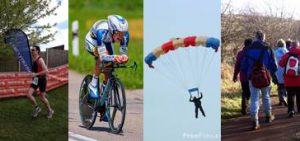 Fundraising for Pelican Cancer Foundation can be easy. If you are entering a sporting event or race, we would be thrilled if you decide to do it in Aid of Pelican Cancer Foundation. Join Team Pelican, wear our colours and raise money to help support our work with cancer specialists in Basingstoke and around the UK. 
You might be indoors or outdoors, at home, in a sports facility, in water, or on land. You could walk, run, or cycle, maybe swim, bounce, or throw; over 5K, 10K or half marathon distance; or perhaps even further. Whatever you choose, together we can make a difference!
Maybe you have secured a place in one of the 'The London Classics' (London Marathon, RideLondon or Swim the Serpentine), or have signed up to one of the eight 'Great Run' events, which includes the Great North Run and Great South Run.
Or perhaps you have signed up to a local or regional event, like the Basingstoke half marathon or May Day Tri, which are local to our charity office.
No matter how simple or tricky your challenge, we want you to be on our Team. Be inspired by all the fantastic fundraisers who have.
Once you've made a decision and signed up, get in touch and let us know that you want to run in our colours. Handling sponsorship is easy – set up your own page on JustGiving and it will manage all the donations you receive.
If you pledge to raise a minimum of £100, we will send you one of our training tops. Alternatively, if you just want to be part of the gang, you can buy a top for £15 and wear it with pride, knowing that 25% of the cost is a donation.
Find your event, there are lots of website that can help:
Good Luck!
Tell us your ideas.
Let us know what you're up to – we can profile your event on Pelican's website and in our supporter e-bulletin and/or newsletter.
For help and ideas check out our fundraising resources page.