Prospective analysis of postoperative morbidity, quality of life and functional outcome after Transanal Total Mesorectal Excision.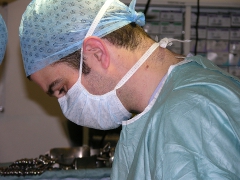 To access the Transanal-Total Mesorectal Excision Registry click here.
The concept of transanal Total Mesorectal Excision (TATME) or 'bottom-up' surgery for very low rectal cancers has been gaining momentum, both in the UK and worldwide. TATME is proposed in highly selected cases as an alternative approach to laparoscopic, robotoc or open dissection of the rectum via the abdominal apprroach. The technique allows dissection of the most difficult part of the surgery deep down in the pelvis (particularly in male patients or patients with the visceral obesity). The perceived benefits of this technique may include ease of procedure due to better views, decreased operative time and reduced complications. This appears to be a feasible and safe procedure on preliminary analysis of the current data however larger series are awaited.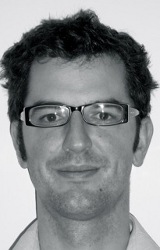 In order to continue with the devlopment of this technique we have created an online secure registry, led by Mr Steve Arnold (above) and Mr Roel Hompes (left). Participating centres will be able to download their own data as required.
The registry will allow monitoring of the uptake of this technique within the surgical community and compile data on approach, operative, postoperative, oncological and functional outcomes. We will collect data on all rectal resections using a transanal approach for benign and malignant disease. In conjunction with educational events this registry will facilitate audit, research and governance of outcomes, hence promoting a safe and responsible introduction of this approach.
Results of the first 720 patients on the registry have been published http://journals.lww.com/annalsofsurgery/Abstract/publishahead/Transanal_Total_Mesorectal_Excision__International.96378.aspx