Thank you for considering making a donation to Pelican Cancer Foundation.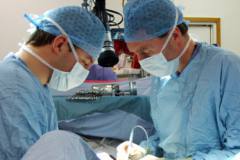 Your support will help advance today's fight against cancer.
We offer two donation options:
Regular donation
One of our biggest challenges today is to raise funds for our future programme of work. Regular giving helps us to plan and develop our research programme over the longer term – and it helps you to spread your donation across the year.
You can make a regular donation:
By completing a direct debit form – download a form here
Standing order – you can set up a standing order with your bank: our bank details are account number 00022375 and sort code 40 52 40. Please let us know if you set up a standing order so that we can reclaim the gift aid and thank you for your gift.
Online – via the charity giving website JustGiving. 
One-off donation

You can make a one-off donation today by following the online link below
Online – press HERE to make a donation using a credit/debit card via Pelican's secure server.
or
By post – please send your cheque, payable to 'Pelican Cancer Foundation', to FREEPOST, RSHX-YYKY-UKBK, Pelican Cancer Foundation, The Ark, Dinwoodie Drive, Basingstoke, RG24 9NN.
By phone – please call the Pelican office on 01256 314 736 and donate over the phone via credit or debit card.
By text – simply text PELI31 and the amount you wish to donate (e.g. PELI31£20) to phone number 70070
In person – we welcome visitors to the Pelican office. Please just call us to let us know when you are hoping to pop by on 01256 314 746.
 Don't forget that if you are a UK taxpayer and you Gift Aid your donation, this adds a further 25p to every £1 you give, at no cost to you.
AUCTION AND RAFFLE PRIZES
If you would like to offer an Auction or raffle prizes to raise funds at one of our events, we would be delighted. Please call us to discuss your donation on 01256 314 746.
Support Pelican's fundraisers
Why not take a look at what our our Fundraisers are up to, or visit JustGiving, BT MyDonate or Virgin Money Giving, and search on Pelican Cancer Foundation to see who is doing what to support us and you can support them!
Alternatively there are lots of ideas in our downloadable Fundraising Pack if you are interesting in taking part in an event or organising an event for Pelican.