"Standards in reporting of MRI targeted prostate biopsies (START): recommendations from an international working party"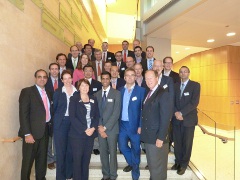 In October 2012 23 leading radiologists, urologists, histopathologists and methodologists gathered in New York to attend a consensus meeting organised by Pelican Cancer Foundation and the Peter Michael Foundation. Their aim was to define the standards required for the reporting of studies of MRI-targeted prostate biopsies. A previous review had identified a number of areas of incomplete reporting in studies in this area, and it was appropriate to set out a set of minimum standards for reporting of such studies in the future.
They took part in a study involving a pre-meeting questionnaire and a discussion of the results at the meeting. In this way they could reach a consensus on what the START (STAndards of Reporting for mri-Targeted biopsy studies) checklist should include.
This checklist will improve the quality of reporting and facilitate a comparison between a systematic biopsy approach and an MRI-targeted approach. Collation of data from studies fulfilling the START criteria may more easily allow the evaluation of MRI-targeted biopsy as a diagnostic strategy for the selective detection of clinically significant cancer.
Link to final report on PubMed. This was awarded the Best Paper in Urological Oncology at the '11th Meeting of the EAU Section of Oncological Urology'.