"Focal Therapy in Localised Prostate Cancer – Principles, Evidence and Treatment Modalites" and the Fourth MRI Workshop for Localised Prostate Cancer – Radiology Workshop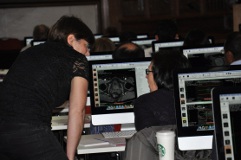 In April 2014 at the Royal College of Surgeons in London Pelican held their seventh international colloquium. The convenors were Professor Mark Emberton, Mr Hashim Ahmed, Mr Manit Arya and Mrs Caroline Moore and the meeting was chaired by Mr Peter Pinto. The colloquium took place over two days; presentations were given on the first day followed by a radiology workshop led by Dr Alex Kirkham and Dr Clare Allen on the second.
The principal theme of the colloquium was focal therapy, a method for treating just the area of cancer within the prostate, rather than the whole prostate. Several eminent medical professionals gave presentations in the area including the rationale for the use of focal therapy, discussing which patients are suitable and how to select them and localise their disease. Further presentations included new evidence on the outcome of focal therapy and how it would be best to standardise it, discussing different training and programme options. Professor Mark Emberton ended the day by talking about the last 10 years of focal therapy innovation, present successful outcomes and how to continue and build on these achievements in the future.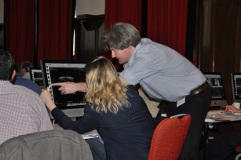 The second day provided clinicians with a chance to examine several MRI case studies looking at localised prostate cancer. Skills in identifying sequences, signs and challenges including age and disease differences, were improved through the guidance of leading experts and discussions amongst the delegates. Together, the two days allowed international experts to come together and learn about and discuss the important treatment option of focal therapy, which could be beneficial to many patients.