In October 2007, I was diagnosed with rectal cancer. It was a major shock to the system as can be imagined but with the magnificent support from my family and friends I believe that I have come through even better than I could ever have hoped for.
Having had to undergo radiotherapy, chemotherapy, surgery which left me with a permanent colostomy, and then 6 months of further chemotherapy, things were pretty low. I felt the only way forward was a major challenge – so I applied for, and got a place in the 2010 Virgin London Marathon.
I received the expected comments of "crazy", "no chance" "why" etc, but then my family got round and agreed to support me. My daughter, Nicolie, started the way by gaining a place through the Red Cross. She decided that her intention was to see that I finished and would not worry about her own personal time. My son, Tim, then joined in and got a place running for the RNLI. My wife Rosamond then took on a new role as Team Manager and Pit crew.
So, after several months of training in various weathers, many visits to Tim's Surrey Physio clinics in Croydon and Wallington to sort out various aches and strains, the GREAT day arrived on 25th April 2010. Was I fit enough – no! Was I going to get round – YES! With help!
Thankfully, the weather men were wrong again as the day dawned rather overcast and not as warm as was expected. At 0730 the Team were taken to Blackheath by our Team Manager and no sooner had we been delivered to the start area than the rain descended.
Not to be put off we went our separate ways as both Tim and Nikki were at the Red start and I was at the Blue start area. But where were Nikki and I going to meet up – that was the question. In an effort to help me find her in amongst the other 37,500 runners she had pinned 2 red balloons on her head!
At 0945 on Sunday morning we were off. Would my colostomy bag hold up?
Here I must explain, for the past 15 months I have been irrigating. What a transformation in my life. No longer was I changing bags 4 times a day. No longer did I have sore skin. But what would happen during 26.2 miles of running? Would it all fall apart? As a precaution I did take extra bags in my pocket and then hoped for the best.
So, back to the RUN. The Red and Blue starts merged after 3 miles. Would I see Nikki? We had already agreed that Tim was too fast so he pushed on ahead on his own. At the "meeting" of the groups I looked over my left shoulder and suddenly there were 2 red balloons bobbing down the road. I was absolutely amazed that we had actually met. Although we had made back-up arrangements and both had mobiles on us, to physically meet so soon was exhilarating and gave me the extra boost I needed.
The next 14 miles took us through Woolwich, past the Cutty Sark, along the South of the Thames, and then across Tower Bridge and we were nearly half way. Turning right we then entered the East End of London, and that area known as the Isle of Dogs. All along the route the crowds were great, and what terrific support we all got. Everyone calling our names and offering sweets to give us energy. Children "high fiving" and others "come on Richard", "come on Nikki"! Fantastic – and what a boost to help us on our way.
We plugged on but as the miles evaporated so did my stamina. If I had not had Nikki encouraging me and pushing hard, I am not sure if I could have kept running for so long. We did start interval running/walking – 200 yards walk, 400 yards run. This seemed to work well and we made steady progress. Nikki then changed the routine to walking to a specific point then running to much further targets. This seemed to work better and suddenly we really ate into the miles.
After leaving the Isle of Dogs, the route took us back towards the Tower of London, along the Embankment, Parliament Square, Buckingham Palace and the FINISH!
By this time we had been on our feet for over 4 ½ hours and things were starting to hurt. Water was readily available and was consumed at every opportunity. Our progress was a bit slower now as I was starting to feel the strain. The showers along the route gave some respite and with copious amounts of water pouring over my head we kept going.
Nikki then announced – Tim had finished in 4 hours 20 minutes. Brilliant! He was with Rosamond at mile 25 along the Embankment so to watch out for them. Anyone who has been to watch or run the London Marathon knows how difficult it is to spot either a runner or spectator, so we kept a close look out and then there they were. Rosamond calling support and Tim with his medal, grinning broadly.
Now we had the last mile to go. My energy was really low, and the lack of training through injury and the past 2 ½ years of treatment and stress was starting to tell. Thankfully, seeing Tim and Rosamond helped spur me on and with Nikki running beside me continually urging me on we rounded Parliament Square and the placard – 800 yards to the finish. Round past Buckingham Palace and up The Mall and the end was in sight. Then Nikki said – keep going and we will get home in less than 6 hours! Under 6 hours – and we had expected 7 – 8 hours at least. The final push and we did it in 5 hours 55 minutes on elapsed time. I was totally spent, and did cause my nursing daughter some concerns, but the body is very resilient and recovery soon took over.
We then got our medals – what a great moment. With support from my family I had competed 26.2 miles. I was exhilarated, if somewhat overwhelmed.
But what about my colostomy bag. Did the irrigation hold up? I had not checked the bag for some time so what would I find?
NOTHING! Irrigation works! No residue left behind, no problems, and no worries during the run.
What a revelation and additional thanks must go to my stoma nurses Jan Beard and Anna Wallace from Beckenham Beacon for their initial instruction and help in getting me started.
And of course very special thanks to Rosamond, Nikki and Tim for their massive support during the last 2 ½ years that made running the Virgin London Marathon a possibility.
Having achieved a modest level of fitness for the London Marathon, and proving that irrigation worked for a 26 mile run, I talked with my son Tim about a new project.
After much thought we found the right target: Hadrian's Wall Path.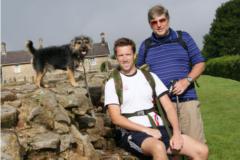 So, after contacting a professional walking tour operator, Tim and myself, accompanied by my daughters' dog, Branston, left London Euston station for Bowness-on-Solway in Cumbria. We were staying in Bed and Breakfasts across the country, with our bags being delivered to the next stop. The main thing was how to cope with irrigation and the equipment needed. Luckily with our main gear being moved for us, all we needed was our daily supplies of snacks for the dog, water for us all and emergency bags and lotions for me.
Then the question of how, and when, to irrigate. After a lot of discussion with my wife, Rosamond, she came up with the solution. As Tim and I planned to make early morning starts to the walk, I undertook to irrigate each evening so as not to rush things in the morning. This worked brilliantly. Each day our distance walked was between 18 and 20.5 miles. The longest walk took 10 hours, owing to the very high climbs along the path of the wall. On reaching our B & Bs, after relaxing, feeding the dog and ourselves, I then irrigated.
It worked very well. At no time did I need my emergency bags during the day, and managed to exist on one small pouch every day which I put on after completing my irrigation.
After the freedom irrigation gave me for the marathon, this new system worked even better. For 5 days we walked a total of 86 miles, finally ending up at Wallsend, near Newcastle. I had no problems during the day, and evening irrigation was an easy alternative to the mornings, allowing us to get really early starts.
I am now looking for a new challenge to test the system!
Written by Mr Richard Allardyce, August 2010
Read about Richard's latest challenge in May 2011 – Marble Arch to Land's End by bicycle!
2012 – Sadly Richard lost his fight against cancer in May 2012.