First-time half marathon runner Carys smashed her fundraising target by 340% when she sprinted to success for Pelican Cancer Foundation.
She was delighted to raise £2,550 for the Basingstoke charity by competing in the Cardiff half marathon after a family member was diagnosed with the rare cancer of the appendix, Pseudomyxoma Peritonei.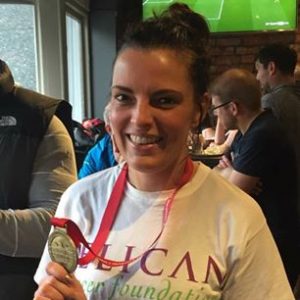 Carys and her family were moved by the positivity and kindness of the team of doctors and nurses at Basingstoke Hospital who provided great support during their loved one's treatment.
"Our family member had a life-changing operation at Basingstoke, one of only two hospitals in the UK that specialises in the illness which is very stubborn to treat with chemotherapy," she said.
"It was a very emotional time and our family pulled together. During the five weeks he was in hospital I always tried to be positive, but it was hard at times. The day we went to bring him home to recover was a happy day."
Carys' relative went on to receive chemotherapy in Cardiff and she was inspired to sign up for the city's half marathon to raise awareness and funds for Pelican, which is dedicated to improving the quality of life for patients with bowel, liver, bladder and prostate cancers.
"I completed the Cardiff half marathon with a time of two hours 13 minutes – I was rather happy and shocked with that time. How I made it the last mile and a half I don't know! This was a massive achievement for me.
"I was delighted to raise so much money for Pelican as it is a cause close to my heart – the charity's clinical trials helped with the quick diagnosis of our family member and for that we will always be thankful."
Pelican chief executive Sarah Crane said: "Congratulations to Carys for completing the Cardiff half marathon and huge thanks to her for raising these much-needed funds for Pelican.