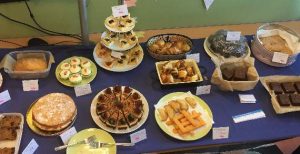 The management team at Niche Finance Group decided early this year that as a group, they wanted to give something back so we put together a charity committee to organise charity support and fundraising. As a group they decided to raise money for three different organisations; the Pelican Cancer Foundation, Harbour Cancer Support Centre and Shelter.
On the 26th August they held their very first "Great Niche Bake Off" at their offices, based in Alton and Whitley and selected their own Paul Hollywood's and Mary Berry's very carefully as you'd expect. The winners were Stuart Selkirk who baked a delicious Pina Colada cake and Bradley George who whipped up a beautiful batch of salted caramel brownies. The runners up where Lisa Merriman with her lemon drizzle cake and Connie Waldron with her lemon tart. They also had to give recognition to Hayley Chappell for her out of this world brownie based cheesecake. A massive well done to their winners but, if you think about it… everyone's a winner when there's cake all over the office.
Up next on their agenda is the Great South Run in Southsea on the 23rdOctober. So far, they've put together a team of 13 crazy people who are looking to run the 10 miles to raise money for their chosen charities and we can't wait to see them cross the line! This will be shortly followed by some Halloween themed activities which they're all looking forward to.
They can't wait to see how much they can raise for their very worthy causes!