Thursday 30th June 2016, Newbury Racecourse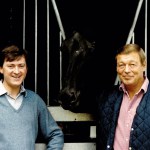 A sincere thank you to everyone who
supported the amazing Pelican Charity Race
Evening 2016 in memory of John Hills and
Christian Marner. 
An exclusive race evening was held to celebrate
the lives of Christian Marner and the popular
Lambourn trainer John Hills who were two very
special men, passionate about racing and having 'fun'. Sadly, they died from cancer far too early in life and are hugely missed. Funds were raised in support of Pelican Cancer Foundation and Pancreatic Cancer UK to help fight cancers below the belt through medical research, education, detection and pioneering precision surgery.
The Pelican team would like to thank everyone who supported this fabulous event, especially the wonderful Fiona Marner and her Event Committee.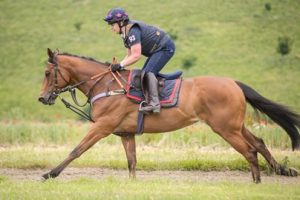 Photo: Charlotte Plunkett who rode First Mohican to win the Charity Race at Newbury on 30th June and raised a fabulous £7,036.17 for Pelican and Pancreatic Cancer UK.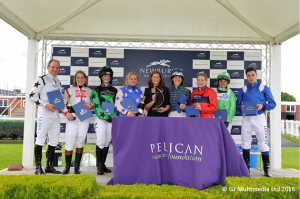 Photo: Fiona Hills with jockeys. John Hills 'Gilderdale' Charity Race. Pelican Charity Race Evening 2016.